Articles
IN THE BELLY OF THE BARN
POST AND BEAM PERFECT
POST AND BEAM PERFECT
by Carol des Lauriers Cieri
This article was first published in Maine Boats & Harbors
and is reprinted with permission from the author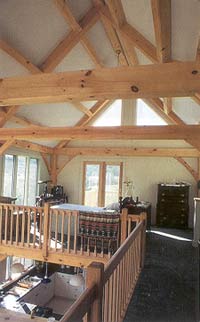 John Connolly has a shrine in his attic, If you're lucky he'll take you up the winding back stairs and show you the massive timbers that support the Connolly & Co. workshop. The structure was once a church in Woolwich, built in 1793. Connolly bought it, took it apart, and reassembled it here on Route 1 in Edgecomb, Maine. Now those handhewn beams are there to remind him that timberframe buildings last.

He's between appointments when we speak, a little harried with the busyness of business, but there's a sweet look of relief on his face as we admire the craftsmanship. He doesn't say it, but he doesn't have to. This disciplined beauty, this soul, is why he does what he does.

Connolly's an old hand at reusing structures. Having worked with his father, a carpenter, during college vacations, he was ripe for the picking in 1967, when Lance Lee, of Apprenticeshop fame needed help building an Outward Bound structure of recycled yellow pine timbers. In 1972 their paths crossed again as Lee was starting his first apprenticeshop at the Maine Maritime Museum in Bath. They took down a Waldoboro sail loft and four or five other barns; out of those materials they built the shop.

In 1978 they did it again, this time building the museum's restoration shop using materials scrounged from a South Portland railroad station and a timberframe barn in Head Tide. "Once again I found myself dismantling barns and pounding wooden pegs into timbers," says Connolly.

After a stint teaching, he apprenticed in boat building, but decided he couldn't make a living at it. Still, the experience led to his first timberframe job, an addition to a New Harbor fisherman's house.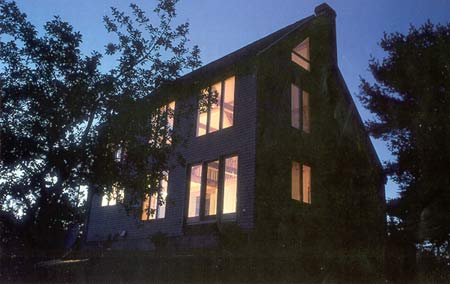 "I fell in love with timber frame buildings," he says. "It's very visual. Piece by piece you're cutting the joinery, you're taking it to a site and pegging it together. And then in a matter of days you're raising it into a home. It's a very moving experience. A raising is something you get hooked on."

Now he runs his own company, and while he may be a pro at timberframing, one of the founders of the National Timberframers Guild of North America, he calls himself an apprentice in business. "I didn't necessarily build the company," he says. "Timberframing attracted a lot of young people who were looking to do something with their hands, that they could learn and take pride in. To be a part of that is what helped to build my company."

As he has been to so many others on the coast of Maine, Lance Lee has been Connolly's mentor. "I've always appreciated his ability to inspire and move people," he said. And he learned too, from Lee's clear focus. Turning the Woolwich church into a workshop, for instance, was a massive undertaking. "I don't know if anyone who was working with me knew how far I'd get, but for me, I just sort of gathered some of that focus I'd had with Lance and decided to just do it."

Part of the appeal of timber framing is that those handsome structural beams are left exposed. Connolly calls this "the added aesthetics of seeing the structure that supports your home." People who love barns and cathedrals love this kind of construction, and it's expanding throughout the country.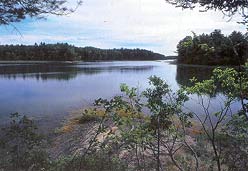 "The invention of stress-skin panels that enclose our homes has also helped our industry to grow." says Connolly. "We're taking an age-old craft and merging it with a high-tech insulating system." And age-old it is. "I stood in a frame in France 12 years ago that was built in 1200, and we do some of the same joinery in our frames today," he says.

Connolly's Route 1 location and his reputation for quality is what drew at least one couple to hire him. They're private people - they don't want their names used here - but they were willing to have us walk through their home.

The drive curves off the road to Friendship, and the house stands at the end, close by a two-story, two-car garage. Both buildings are modified saltboxes, their clapboards painted in an earthtone. Neither are particularly striking and there's no fancy front door. You seem to be approaching from the back, as if you, the visitor, are an afterthought. This is a retirement home, and in a way, you are an afterthought. The couple who live here entertain only family and close friends. No need for show.

Connolly explains that this couple were attracted to the saltbox style, but to mesh the design with the site, they turned the saltbox backwards, so the slant is toward the front of the building while the back opens up into two stories of windows, the better to enjoy the view.

The entrance is on the side of the house, off a screened porch spanning the house and the garage. The kitchen is on the right as you enter; a small hall leading to stairs is on the left; a two story great room opens up in front of you. At first all you see are the windows and the views beyond.

The house is built on a point of land jutting out into a tidal flat. Water flows around it at high tide. You know this because you can see it. There are windows on three sides, in three tiers - the first floor, the second floor and in the peak of the roof. Down the trim lawn, pine trees gather along the shore. Under the pines is a grouping of comfortable lawn furniture that makes it look more like a living room than a shoreline. Clearly, the people who dragged those chairs down to the river would rather be outdoors that anywhere else. They have a relaxed lifestyle and a passion for gardening and all manner of outdoor pursuits. Of course they'd build a house that was all windows. "We're outside more that we are in," said the couple. With this house, "we wanted the outside in."

They wanted an open floor plan too, for its informality. If you want someone in another part of the house, you hardly need speak above a whisper. Besides two bathrooms, one on each floor, the only enclosed room in the house is a spare bedroom with a closet. It's tucked in the far corner of the house, behind the great room. The second floor is really a large open loft, with two sleeping areas and a bathroom. Carpeting makes it quiet and cozy.

The larger sleeping area, above the kitchen, serves as the master bedroom. With two walls of windows, a closet across the back, and a railing along the side, it feels like a huge cradle in the sky. (Yes, with their heads on their pillows, the owners can see stars.) A smaller sleeping area nestles under the slant of the saltbox roof, above the first floor guest bedroom.

With so many windows the place glows like a lantern at night. During the day, you feel part of the weather. Once your eyes become accustomed to all the light, you start to notice the handiwork. The timber supports are long, clear spans of yellow pine, secured with wooden pegs. The braces are curved, reminding one visitor of tree limbs as they branch up the far corner of the great room.

The owners had lived in a 1785 post-and-beam with a big barn. They love being able to see their new house's handsome framework. That's part of the reason they chose timberframe construction.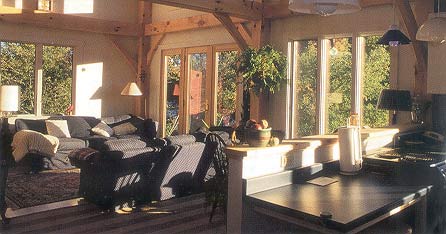 Many couples want everything just so in their retirement homes; they think they know what they want and nail down every detail. This couple was different. The husband said the only room he cared about was the porch. The wife, an artist, asked for a workspace. What she got was a full-fledged studio over the garage with windows on all sides and great views. It has features she hadn't even thought of. "Somebody did, and I'm glad," she said, "I got way more than I really deserve."

"Everyone who worked on this house was truly an artist," she added. "They had the freedom to see it as it should be, and the freedom to make it that way. As a result, you have something beautiful."

Connolly agrees. Sometimes his company just does frames; sometimes it handles the whole job. "When we get to do a total project we see an interest in all the craftsmen. I think they like being involved with quality structures," he says. "I think it challenges them to do their very best."